{Review} Lola and the Boy Next Door by Stephanie Perkins
Author: Stephanie Perkins
Release Date: September 29th 2011
Publishers: Dutton Books
Pages: 338
Genre: Contemporary
Links: Goodreads | Author's Website | Buy the book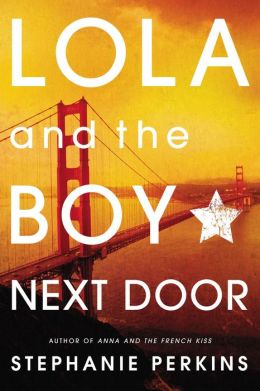 Budding designer Lola Nolan doesn't believe in fashion...she believes in costume. The more expressive the outfit--more sparkly, more fun, more wild--the better. But even though Lola's style is outrageous, she's a devoted daughter and friend with some big plans for the future. And everything is pretty perfect (right down to her hot rocker boyfriend) until the dreaded Bell twins, Calliope and Cricket, return to the neighborhood.
When Cricket--a gifted inventor--steps out from his twin sister's shadow and back into Lola's life, she must finally reconcile a lifetime of feelings for the boy next door.
I've said it before and I'll say it again, I love Stephanie Perkins writing! As you know I read
Anna and the French Kiss
a while back and I just fell in love with the world of contemporary. I was worried that after reading Perkins other book that it would be hard to beat the first one. (Like a one hit wonder) I can't say this was better but it is still high up there in the cuteness factor!
I had no idea what this book was about and I was worried that it would be the same sort of characters. Was I completely wrong! Perkins has the most unique characters I've read and the protagonist, Lola is a prime example. She wasn't the average teenager and showed her individuality by being a new person everyday. And by being a new person I mean dressing up and wearing crazy and cool outfits. If I were to describe her in one word it would be quirky! This story is about her going through the trials and tribulations of being in a rocky relationship and finding her true self.
Although the story is a very cliche chick-lit I like how it was unique. For one, Lola had two dads! It's not often that I read about gay parents and I think it's definitely a topic that should be written more often. The one thing I like about Perkins writing is that it's easy to read. The words flow really well and I finished it in no time. Stephanie Perkins has the best teenage voice and it was easy to become engrossed into the story.
How can I write a review and not mention the romance? I can't say that I liked Cricket Bell better than St Clair but he was so lovable! He was an unusual character (along with the name!), very nerdy! He has a talent for creating and fixing things with the most simplest of objects. He was that cute sort of awkward person but in the good way and he was always there when Lola needed him. They have one of the cutest relationships and they would always speak with each other through the windows.
Lola and the Boy Next Door
was a cute read and it definitely got me out of a reading slump. It makes me wish I had a boy next door just like cricket haha! Anna and St Clair did make an appearance in the book and it was cool seeing them in another characters eyes. Stephanie Perkins always manages to make me want to be these characters which is totally unfair at times! It was nice reading a unique but cliche contemporary and I can't wait until Stephanie Perkins next book!