I'm back!
So...hey....I know it's been a while. But I'm finally glad to say that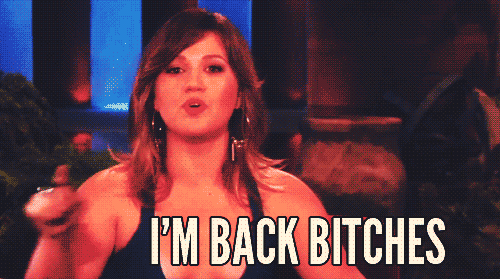 I know I say this every time but I am so sorry for being MIA. Will you forgive me? This has probably been one of the biggest slumps of my life but the end of year 10 proved to be hella difficult. There was so much happening in my last term of school such as formal, exams, camp etc. Ya know, a lot going on!
Also I've learnt that pushing myself to read just never works. In other words, I took a massive vacation from blogging and reading but even that's got to end sometime. I miss blogging and talking to the wonderful bookish community and now I think I'm ready to tackle 2015!
But now that it's a new year I think it's only appropriate to set some resolutions. (That I'll actually keep)
So the goals are written down and set in stone:
1.
Post regularly
- this has always been something I struggle with but I am motivated to commit more time to blogging
2.
Participate in some memes
- I noticed my blog is so boring and I never do anything fun. Doing some memes might add something to this blog. Any memes you would like to see?
3.
Create a new style of reviews
- when I first started blogging I mainly took inspiration from how other bloggers wrote their reviews. I think it's time I do something more me, if you know what I mean?
4.
Read 50 books this year
- I know this doesn't sound like many but I'm going into year 11 and it's going to be hard juggling my time.
5.
Start a Pinterest board
- I've finally gotten on board with Pinterest and I actually love using it. Pinterest might be a fun way to create something new on my blog.
6.
Focus on the AUS community
- when I first started out I was always trying to get involved with international bloggers. But over time I've realised that it's so much fun talking to people close to home. The AUS community is so lovely and it's so easy to interact with them. Not to say I'll ditch my close international buddies ;)
7.
Comment regularly on other blogs
- my commenting game was so poor last year and I am so sorry for neglecting your blogs! I promise to make an effort.
8.
Increase followers
- this isn't high on my list as I am pretty happy with the followers I got. I'm not so worried about the numbers anymore but mainly the feedback I get.
9.
Bloglovin
- I need to keep up to date with all the blog posts so I don't end up with over 100 unread posts
10.
Review books
- keep up to date with
all
my review books. My pile keeps getting larger and larger as I prolong the inevitable.
So this is it! 10 goals for 2015. Sounds reasonable right?
What are your 2015 resolutions for reading or blogging?